Halloween dance party for kids and teens in Acton.
It's October meaning Halloween is just around the corner! There is probably more hype this year than any other year due to the pause in celebrations because of the lockdowns.
The kids are getting pumped for Trick or Treating while you are going crazy trying to make Halloween plans and stock up on treats while still fitting in school runs, errands and work. Sound familiar?
That's why we thought "Why not throw a Halloween party?!" to take some of that stress away from you and ensure your child has a great time. There's no planning on your behalf, just book, show up, drop off your child and leave the rest to us (Just don't enjoy your free time too much and forget to collect them!) Your child doesn't even need to wear fancy dress as we will have a face painter and a range of props on hand. Halloween sorted! Plus our party takes place the week before actual Halloween meaning you can still fit in trick or treating or additional Halloween parties if you like.
Your child will have an amazing 3 hours of fun and have lunch for just £25 – Bargain! Plus, YOU get some free time to do your weekly shop, have some time out for yourself or even get started on some early Christmas shopping! – Imagine how much you could get done in 3 hours with both Ealing Broadway and Westfield only a short distance away!
Sound like something your child or teen would be interested in? More info below the flyer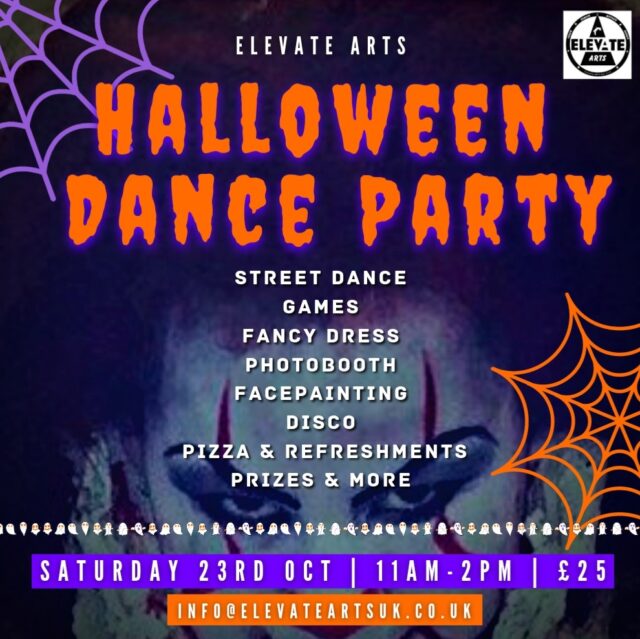 Book now to join us for our spooktacular Halloween Street Dance party on Saturday 23rd October from 11am-2pm at Acton Gardens Community Centre. Spaces are limited so don't hesitate in contacting us if you're interested.
3 hours of jam-packed spooky fun includes:
Learning Michael Jackson's "Thriller" choreography (with adaptions for all abilities)
Gory games (Elevate Arts games are like NO OTHER – If you know you KNOW!)
Creepy Craft corner (For those who might require a break from the physical activities or for the "non-dancers" out there)
Prize for best fancy dress
Dance battles (optional, we will never force anyone to battle)
Fangtastic face painting by Paint Face Parties @paintfaceparties (Arrive bare faced if you would like to have your face painted)
Photobooth and props for amazing Insta posts and making memories
Disco
Treats & prizes to be won (Includes spooky sweets, scary stationary and more!)
Unlimited squash
Pizza lunch (3 options will be available to cater for different requirements/tastes)
Suitable for all abilities from those who have never danced to experienced dancers. If your child/teen loves a party but doesn't fancy learning the dance routine, we will also have our craft corner available.RECOMMENDED AGE: 4-14 (younger children are welcome if they can be without you for 3 hours, older children are welcome but there will be younger children attending – we know how teens can be!)SEN: If your child receives 1-1 support in school one parent is welcome to attend for free

COST: £25 per child/teen. Parents must drop off and collect

To book please email info@elevateartsuk.co.uk or contact us on one of our socials @elevateartsuk